[section width="md"]
[bs_row class="row"]
[bs_col class="col-xs-6″]
[rond]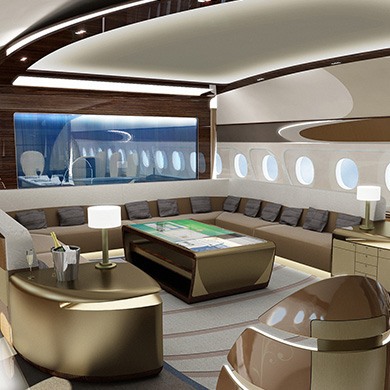 [/rond]
[/bs_col]
[bs_col class="col-xs-6″]
Our experience
The management team of M&R associates design offers services in designing interior/exterior and completion project management since more than 20 years for new and pre-owned aircraft, and providing services for:
– VVIP aircraft
– Head of State aircraft
– Executive Charter airplane
– Helicopters
– Airliners
– Yachts
– F.B.O.s (Fixed Based Operator)
– Exclusive Architecture/ Houses
M&R associates design has acquired the confidence of aircraft manufacturers, being officially referenced by Airbus and Boeing, worldwide outfitting & maintenance facilities, major Operators, and especially Owners seeking support and expertise not only in terms of design but also in regard to "design project management" and any other services needed for their comfort on board .
Over the years, M&R associates design has completed for its customers outstanding projects with all major aircraft manufacturers: Airbus, Boeing, Bombardier, Gulfstream, Embraer, Dassault, Sikorsky, Airbus Helicopters / Eurocopter, Agusta, Turboprop manufacturers, etc…
[/bs_col]
[/bs_row]
[/section]
[section width="full"]

[/section]
[section width="md"]
[bs_row class="row"]
[bs_col class="col-xs-6″]
Our Philosophy
Raising your project to Excellence
Our innovative projects are created around space, harmony and refined details to reflect the personality and the lifestyle of the Owners/Users.
Our main objective is the comfort and the well being of all passengers to make each journey as unique as each project.
Designing elegance, and finding the exclusive material selection to meet the Owner's/User's requirement is our strength.
In addition, through the experience of our team, we will always manage efficiency, maintainability and certification requirements, in order to raise your project to Excellence.
[/bs_col]

[bs_col class="col-xs-6″][rond]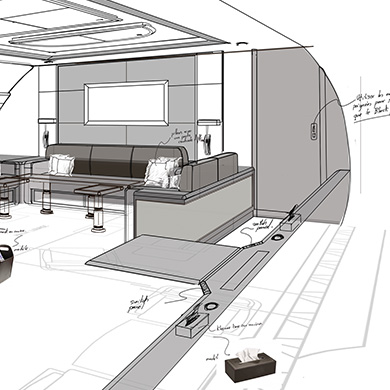 [/rond]
[/bs_col]
[/bs_row]
[/section]
[section width="full"]

[/section]
[section width="sm"]
Our Management Team
M&R associates initially started with two founding partners complementary expertises, gained over the past 15+ years with the largest aircraft manufacturers and completion centres in the world, then adding a third partner with over 25 years of experience with the two largest and leading aircraft manufacturers in both Business jets and Helicopters Industry, and with customer references in Europe, Middle-east, Africa, North-America and Asia.
This makes it a unique complementary experience for a design and project management company mainly specializing in the aerospace segment.
[/section]
[section][managers][/section]