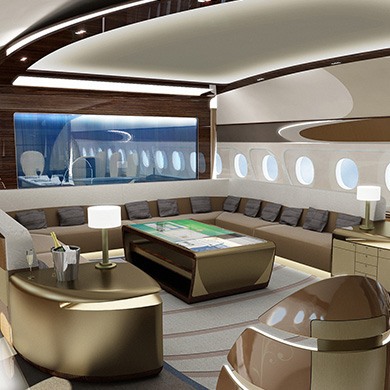 Our experience
The management team of M&R associates design offers services in designing interior/exterior and completion project management since more than 20 years for new and pre-owned aircraft, and providing services for:
– VVIP aircraft
– Head of State aircraft
– Executive Charter airplane
– Helicopters
– Airliners
– Yachts
– F.B.O.s (Fixed Based Operator)
– Exclusive Architecture/ Houses
M&R associates design has acquired the confidence of aircraft manufacturers, being officially referenced by Airbus and Boeing, worldwide outfitting & maintenance facilities, major Operators, and especially Owners seeking support and expertise not only in terms of design but also in regard to "design project management" and any other services needed for their comfort on board .
Over the years, M&R associates design has completed for its customers outstanding projects with all major aircraft manufacturers: Airbus, Boeing, Bombardier, Gulfstream, Embraer, Dassault, Sikorsky, Airbus Helicopters / Eurocopter, Agusta, Turboprop manufacturers, etc…


Our Philosophy
Raising your project to Excellence
Our innovative projects are created around space, harmony and refined details to reflect the personality and the lifestyle of the Owners/Users.
Our main objective is the comfort and the well being of all passengers to make each journey as unique as each project.
Designing elegance, and finding the exclusive material selection to meet the Owner's/User's requirement is our strength.
In addition, through the experience of our team, we will always manage efficiency, maintainability and certification requirements, in order to raise your project to Excellence.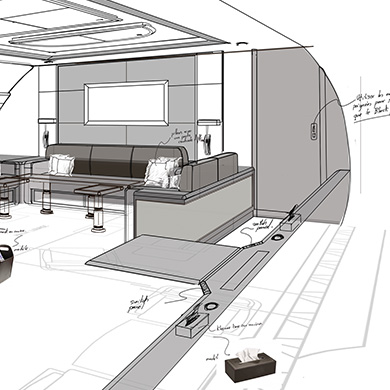 Our Management Team
M&R associates initially started with two founding partners complementary expertises, gained over the past 15+ years with the largest aircraft manufacturers and completion centres in the world, then adding a third partner with over 25 years of experience with the two largest and leading aircraft manufacturers in both Business jets and Helicopters Industry, and with customer references in Europe, Middle-east, Africa, North-America and Asia.
This makes it a unique complementary experience for a design and project management company mainly specializing in the aerospace segment.

Vincent Rey
Co-owner
Design Director
Vincent spent his childhood amongst his parent's tapisseries/upholsteries, learning textiles, luxury materials, and paying attention to the finest details very early .
With an apprenticeship of both interior designer, as well as carrying an interior architecture degree, Vincent started his career with the well-known DeMaria Design company in Los Angeles, California, USA, working on very modern and awarded residential/commercial architectures.
In 1998, as designer, he joined JET AVIATION Basel, Switzerland, becoming rapidly responsible for the Design & Project Management, in charge of a complete BBJ project followed by four additional BBJs and one B767-300. All these experiences helped him gain technical / production knowledge on narrow and wide body airplanes, as well as interacting with many customers from different cultures. Vincent was also in parallel appointed Deputy of the entire Interior Design Department during this time.
After 6 years working with one of the leading completion center in the world, he then joined in 2004 another industry leader, BOMBARDIER Aerospace Business Airplane in Montreal, Canada, in order to develop the Challenger 604 interior Design Team as well as meeting customers all around the globe. At this time, Vincent was part of the team who launched the first Challenger 605.
After successful experiences in North-America and in Europe, and working on both sides of the industry, completion center and aircraft manufacturing, he then co-founded M&R associates design in 2006 with Florent.

Florent Magnin
Co-owner
Design Director
Florent spent his childhood in an artistic environment with his father being a painter and a sculptor.
He graduated from the well-known School of Arts Appliqué of Lyon in France specializing in Industrial and Interior design.
After winning a few awards competing in international contest in both transport, automobile, and architecture design, Florent started his career in aerospace joining JET AVIATION Group in Basel in 1998, working in their VIP aircraft business department.
Florent was responsible for the creative design on most of the main aircraft manufacturer's types: Dassaut, Bombardier, Boeing BBJ, Airbus ACJ…
In close teamwork with both customers, and the engineering department in Jet Aviation, Florent built a strong experience of trust, creativity and knowledge in VIP interior aircraft design, and was also responsible for the definition of the first Boeing 747 SP VIP in Jet Aviation Basel.
After successful experience in Jet Aviation, Florent moved to AIRBUS Headquarters in Toulouse in charge of the development of the interior design of the Airbus A 380 demonstrator aircraft MSN7, and also responsible for the design management of several major worldwide airline companies. During 4 years he used his knowledge and expertise in the VIP aircraft business, and translated it into innovative ideas to both AIRBUS VIP and AIRBUS Airliners customers.
He was also heavily involved on major Airbus marketing projects at the AIRBUS mock-up centre, working for new technologies, materials, and sales interior cabin mock-up. He was also leader in development of new airline seats concepts liaising with the major worldwide seat manufacturers.
After successful and diversified experiences working for a leading Completion Center (JET AVIATION Group) and a leading aircraft manufacturer (AIRBUS), Florent then co-founded M&R Associates design in 2006 with Vincent, adding both VIP and Airlines expertise to the company.

André Nillès
Co-owner
Sales & Marketing Director
With an MBA background in Business, Sales and Marketing, André started his career in 1989 with EUROCOPTER / AIRBUS Helicopters (American Eurocopter, Texas) becoming rapidly in charge of Marketing and Sales Promotion for North-America after 5 years.
He then joined AIRBUS Helicopters Headquarters in Paris from 1994 to 1997 in order to become Sales Director for South-East Asia / Australia, and successfully becoming the Vice-President Commercial for AIRBUS Helicopters South-East Asia based in Singapore for 4 years.
André was also in parallel on the Board of Directors of both Composite Technology International (C.T.I.) in Singapore (1998-2000), and Euroaircraft Services SDN BHD in Kuala Lumpur (1994-1998).
After 12 years spent with the #1 in the Helicopter Industry, he then joined another main Industry leader, BOMBARDIER Aerospace Business Aircraft , in order to participate in the challenge of launching and developing in Europe the Flexjet fractional program for 3 years (2001-2003), and then becoming the Sales Director (Western Europe / Southern Europe) for BOMBARDIER Business Aircraft, selling all Learjet, Challenger and Global aircraft families with major sales results achieved from 2003 to December 2013 in the area.
His experience in Sales and Marketing gained with two world leader aircraft manufacturers in very diversified areas (Europe, North-America, Asia) brings major customer's references to M&R associates design as a Founding Partner.
André is on the Board of JETCRAFT Corporation which is the world leader in aircraft sales and acquisitions; and also on the Board of FK Group which is the Representative of BOMBARDIER for South-East Asia.